Journal of Agriculture and Sustainability is a peer-reviewed journal that publishes papers in all aspects of agriculture and sustainability, including but not limited to: agricultural economics, agricultural engineering, animal science, agronomy, plant science, theoretical production ecology, horticulture, plant breeding, plant fertilization, and soil science, Aquaculture, Biological engineering, Environmental impacts of agriculture and forestry, Food science, Husbandry, Irrigation and water management, Land use, Waste management, innovative practices, new technology, integrated Pest management, Organic and biodynamic farming, sustainable energy use, social and philosophical aspects of sustainable agriculture, linking conservation and agriculture, landscape agroecology, agriculture and global climate change, indicators of sustainability, sustainable farm policy, and future projections.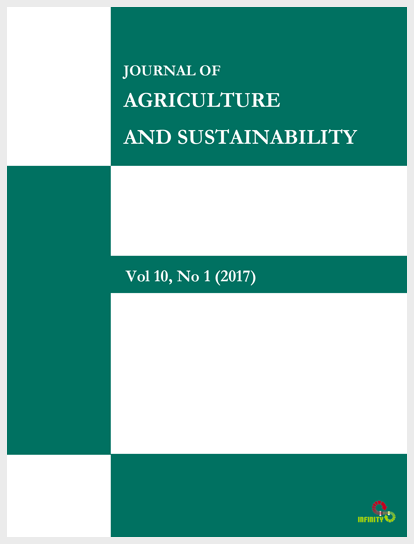 Vol 13 (2020)
Table of Contents
Articles
Turwi Basin, whose primary source of livelihood is agriculture, straddles the two contiguous districts of Bikita and Zaka, south-east Masvingo Province, southern Zimbabwe. The greater part of the basin covers a drought-prone to dry agro-ecological region. Weather forecasting and the dissemination of weather information is done by the Meteorological Services Department of Zimbabwe, however, changing weather patterns are affecting weather forecasting reliability yet there are few weather stations in the basin while few households have access to weather forecast information. Gained through a long period of observation of the environment by local people, indigenous weather forecasting knowledge is site-specific, cheap and can fill in the gap that is left by scientific forecasting. The research study sought to identify the different indigenous weather forecasting knowledge indicators used in the basin and the role IKSs play in guiding farmers in agricultural planning. Participatory Rural Appraisal (PRA) methods were used to collect primarily qualitative data which were subsequently analysed using the thematic approach. Results show that weather forecasting IKSs are well-known in the basin and a majority of the basin farmers depend on them for planning their agricultural activities. IKSs can be integrated with scientific weather forecasting to provide more accurate forecast information to the subsistence basin farmers thus helping them plan their activities and possibly improve food security therein. Validation of indigenous knowledge against scientific knowledge should be done over a long period of time. There is need to document IKS and teach it to young people as currently it is the preserve of older generation.
Data on soil organic carbon stock in wooded grassland is important for assessing its contribution towards offsetting greenhouse gas emissions through carbon sequestration. Understanding the effect of topography and vegetation cover types on soil organic carbon stocks is therefore essential for adopting suitable strategies for reducing greenhouse gases emissions but little has been done to ascertain this. This study was conducted during the long (LRS) and short rainy seasons (SRS) of 2016 in Ilmotiok to determine the effects of topography and vegetation cover at different depths in the wooded grasslands of Laikipia County, Kenya. Randomized completely block design was used; the main plot was topographical zones (TZ); mid slopes (MS), foot slope (FS), toe slope (TS) and subplots vegetation cover (VC); tree (T), grass (G), bare (B). Soil samples were collected to a depth of 50 cm at an interval of 10 cm using soil auger. The samples were analyzed for texture, bulk density (BD) and soil organic carbon. The bulk density was highest under FS*B at 0-10 cm with a mean of (0.88gcm-3 and 0.97 gcm-3) for LRS and SRS respectively as compared to other TZ. The lowest bulk density was observed for MS*GR at 0-10 cm (0.78 gcm-3 SRS and 0.86 gcm-3 LRS) in comparison to the other VC. Highest SOC concentration (1.21 MgHa-1 and 1.10 MgHa-1) was recorded under TS*G at 0-10 as compared to 40-50 (0.52 MgHa-1 and 0.40 MgHa-1) whereas the lowest (0.92 MgHa-1 and 0.91 MgHa-1) was recorded on MS*B at 0-10 cm and 0.39 MgHa-1 and 0.28 MgHa-1 and at 40-50 for the LRS and SRS respectively. The same trend was observed for SOCs highest (9.72 MgHa-1 and 9.90 MgHa-1) for TS*G at 0-10 cm and (5.11 MgHa-1 and 5.66 MgHa-1) at 40-50 cm and lowest under SU*B at 0-10 (7.66 and 7.11 MgHa-1.) and (3.19 and 2.60) MgHa-1 LRS and SRS respectively. The results from this study indicates that topography and vegetation cover of the wooded grassland has an influence on soil organic carbon stocks. Grass vegetation act as a sink to carbon stock therefore revegetation using grass is highly recommended.
The effect of integrating poultry droppings and NPK 15-15-15 fertilizer on soil fertility and tomato yield were studied to investigate the effect of organic and inorganic fertilizer on soil properties, growth and yield of tomato. The experiment was laid out as a randomized complete block design (RCBD) with four treatments and three replicates. The experiment was conducted at the teaching and research farm of Joseph Ayo Babalola University, Ikeji-Arakeji, Nigeria between June to September in 2016 and August to November 2016. A 12m × 15m plot was demarcated for the experiment. The plot was partitioned into three blocks of 4m×15m. Each 4m×15m block was further divided into four smaller plots of 3m x 3m separated by buffer of 1.0m wide. The treatments were: Control; NPK -15-15-15 at 250kg ha-1; Poultry droppings (PD) at 5.0 t ha-1; and NPK 15-15-15 (125 kg) + PD (2.5 t) ha-1.. At four and six weeks after transplanting (WAT), height, diameter and biomass of the tomato plant were determined. At maturity (six weeks after transplanting) the weight of tomato fruit was determined. The combined NPK + PD treatment recorded the highest values for the height, diameter and biomass (fresh and dry) of the plant. The yield of tomato was also highest in the plot treated with NPK + PD. Soil properties were significantly improved by applying the treatments.  In conclusion, integrating poultry droppings and NPK 15-15-15 has more benefits over NPK or poultry droppings alone.
Agricultural production in Niger has been plagued with low productivity and, as such, low incomes for the majority of the country's small-scale farmers, due largely to poor soil quality and arid climate conditions. Input-use is a crucial part of the solution to these problems. However, the rate of adoption remains low among farmers in Niger. One way in which they hoped to deal with this challenge was to train agro-dealers in three regions in Niger namely, Maradi, Tahoua and Zinder. This study sought to evaluates the effect of agro-dealer training in input use and handling, and crucial business practices, on the behaviours of the small-scale farmers that they serve. The evaluation looked at the performance of two treatment groups, who received training only or training plus demonstration, randomly assigned to agro-dealers. Though the design of the study followed a randomized phased-in approach and an IV approach in estimating the impact. The main findings of the study were Training plus demonstration plots increased adoption of improved seed, showing the added value of the demonstration component in the intervention, in encouraging seed use.
The aim of this study was to characterize the quality of treated wastewater of Soba treatment plant, in Khartoum state, in term of its potential to be used in irrigation for different plant products, as well as to study the temporal variations of its physicochemical and biological parameters. Sampling of the treated wastewater was performed during Dec. 2014 and November 2015. The parameters indicating the suitability of such wastewater for irrigation were estimated, these include pH, Total Suspended Solids (TSS), Electrical Conductivity (EC), Total Dissolved Solids (TDS), Chemical Oxygen Demand (COD), Biochemical Oxygen Demand (BOD), Sulphate, Ammonia, Chloride as well as total count, coli from bacteria and parasites. Results showed that, significant variation in values of pH, EC. Chloride, sulphate, BOD, COD was observed throughout the months of year. In spite of variability throughout the year, the values of pH, EC, TDS chlorides and sulphate, in term of their suitability for use in irrigation, fall within the limits set by FAO for irrigation water. Concentration of total coliform and nematodes in treated wastewater, were more than the concentration limit set by WHO, for restricted irrigation, and less than the limit for unrestricted irrigation. The reuse of the treated wastewater in irrigation of non food crops could be carried out without restriction, however, regarding the use of restricted irrigation, it would be necessary to upgrade treatment processes for further reduction in some parameters, providing that, regular testing should be done regularly.
Copyright © 2020 Infinity Press. All rights reserved.