Journal of Agriculture and Sustainability is a peer-reviewed journal that publishes papers in all aspects of agriculture and sustainability, including but not limited to: agricultural economics, agricultural engineering, animal science, agronomy, plant science, theoretical production ecology, horticulture, plant breeding, plant fertilization, and soil science, Aquaculture, Biological engineering, Environmental impacts of agriculture and forestry, Food science, Husbandry, Irrigation and water management, Land use, Waste management, innovative practices, new technology, integrated Pest management, Organic and biodynamic farming, sustainable energy use, social and philosophical aspects of sustainable agriculture, linking conservation and agriculture, landscape agroecology, agriculture and global climate change, indicators of sustainability, sustainable farm policy, and future projections.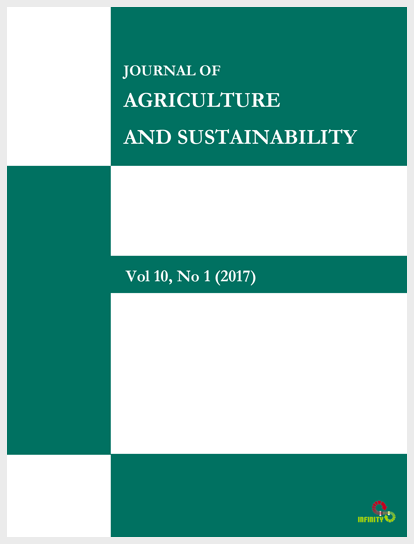 Vol 15 (2022)
Table of Contents
Articles
Cassava (Manihot esculenta Crantz) has been prioritized by the New Partnership for African Development to spur development in Africa. However, the nutritional and biochemical composition of the cassava diversity has not been adequately assessed to inform the various user needs.  Comparative analysis of macro, micro nutrients and biochemical composition of sixteen varieties of cassava in Uganda was undertaken following standard analytical techniques. Results showed significant differences in macro nutrients (p ≤0.000)  except carbohydrate, starch and amylose contents. With the exception of Calcium and Iron, the varieties were significantly different (p ≤0.000) in micronutrient composition.  The Cyanide and dry matter content were also significantly different (p ≤0.000) among the varieties. Overall, Mukibi, Juguja, Bao, Nigeria,  ranked highest in dry matter, cyanide, macro and micronutrients content, respectively. Therefore varieties differ in nutritional and biochemical composition; information crucial in the development of new varieities and deployment of cassava diversity in various  value chains.
Traditional vineyard landscapes are generally intensively managed with heavy reliance on synthetic pesticides. Viticulture is one of the fastest-growing sectors of English agriculture and information on land management is essential to secure a sustainable future. We surveyed viticulturists to ascertain vineyard pest presence, pest control, inter-row ground cover and wildflower use. The majority of viticulturists reported the presence of vineyard pests and relied heavily on pesticides, with 74% using synthetic pest control, 40% using herbicides, 40% using fungicides. Inter-row, 66% of vineyards have grass-only cover and frequent summer mowing, with only 6% sowing wildflowers. However, 60% use natural pest control, 80% reported existence of wildflowers in headlands, and 29% mentioned reduced mowing. We discuss spontaneous and sown wildflowers and benefits for biodiversity, integrated pest management and the commonly perceived barriers to adaptation. We conclude there is huge variation in management styles and more evidence-based environmental advice for viticulturists is needed.
Watermelon (Citrullus lanatus) fruit is nutritious and a profitable cash crop. Its production in Kenya however has dropped from 379.36K metric tonnes to 173.70K metric tonnes in the last five years; attributed to pests, diseases and unpredictable climatic conditions. Study done between July and November, 2018 isolated and characterized fungi associated with watermelon determining their diversity and occurence frequency in Embu County, Kenya. Necrotic fruits and leaves (n=160) were sampled from random farms (n=16). Fungi isolated and  cultured on PDA.; characterized by morphological and molecular method. ANOVA was used to detect fungal prevalence differences among sites. Fusarium oxysporum was most prevelent with 73% frequency, Aspergillus niger (32%). Penicilliun crustosum and Fusarium brachygibbosum at 31%  each. Least prevalent was Trichoderma asperellum (1%). Significant differences (F= 23.365, p=0.05, df=13), were observed among agroecological sites except for Fusarium oxysporium and F. brachygibbosum. Majority of fungi identified were of significant economic importance.