Journal of Agriculture and Sustainability (ISSN 2201-4357) publishes papers in all aspects of agriculture and sustainability, including but not limited to: agricultural economics, agricultural engineering, animal science, agronomy, plant science, theoretical production ecology, horticulture, plant breeding, plant fertilization, and soil science, Aquaculture, Biological engineering, Environmental impacts of agriculture and forestry, Food science, Husbandry, Irrigation and water management, Land use, Waste management, innovative practices, new technology, integrated Pest management, Organic and biodynamic farming, sustainable energy use, social and philosophical aspects of sustainable agriculture, linking conservation and agriculture, landscape agroecology, agriculture and global climate change, indicators of sustainability, sustainable farm policy, and future projections.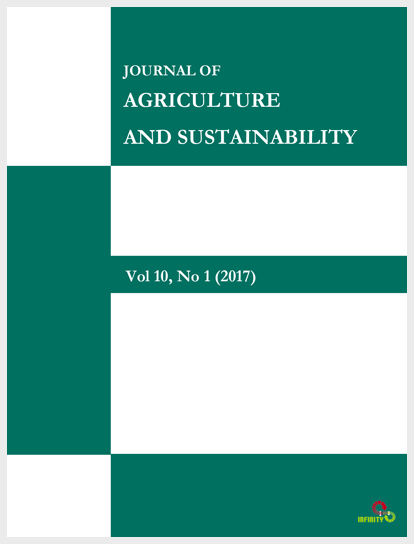 Language: English
Review process: 2-8 weeks
Online Submission: We recommend that you review the About the Journal page for the journal's section policies, as well as the Author Guidelines. Authors need to register with the journal prior to submitting or, if already registered, can simply log in and begin the five-step process.
E-mail Submission: jas@infinitypress.info
Abstracting/ Indexing:
http://www.airitilibrary.com/Publication/alPublicationJournal?PublicationID=P20151214012
https://scholar.google.com/scholar?q=%22Journal+of+Agriculture+and+Sustainability%22
http://www.journaltocs.ac.uk/index.php?action=browse&subAction=pub&publisherID=2315&journalID=31513
http://www.sherpa.ac.uk/romeo/search.php?source=journal&sourceid=26855
http://eng.scholar.cnki.net/result.aspx?q=%22Journal+of+Agriculture+and+Sustainability%22
Vol 11, No 2
Table of Contents
Articles
Nigeria still suffers enormous fuel and energy crises, manifesting in various forms, despite her position as Africa's largest crude oil exporter. Thus, the development of new energy sources such as biofuels from the agricultural sector has been viewed as a way of expanding domestic energy supply, preventing increased dependence on imported oil, as well as diversifying the economy particularly in the face of falling oil prices. This draws attention to Jatropha curcas, an inedible hardy shrub, as a viable choice of feedstock for biodiesel. This study examined the competitiveness, comparative advantage and the effect of government policies on Jatropha curcas production in Southwest Nigeria. Descriptive statistics and the Policy Analysis Matrix were the analytical tools employed. Although the less than unity values of 0.0219 and 0.022 of the domestic resource cost and social cost-benefit ratio respectively, showed that the zone had comparative advantage in Jatropha curcas production, production was not economically profitable under existing government policies as revealed by the negative private profit of ₦587.4393/ton. The prevailing incentive structure also affected producers negatively and policy indicators were found to be sensitive to changes in the exchange rate. The study recommends the large-scale cultivation of the produce and the provision of incentives to producers to enhance the competitiveness of the commodity.
Copyright © 2018 InfinityPress.Info. All rights reserved.